Halloween Bulletin Board Ideas
Handprint Spiders Bulletin Board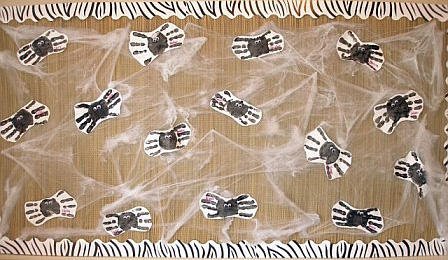 (Photo submitted by Nanette)
To make the spiders, trace around each child's hands onto black construction paper. You
may want to use a white crayon to make the outline more noticeable. Then have the child cut
out their handprints; cutting off the thumb. Then glue the hand cutouts together with palms
together - fingers sticking outward. Glue on wiggly eyes in center and viola... a handprint spider!
~ OR ~
You can use black paint instead of construction paper! As seen below.
Pre-K Fun Theme Pages are for educational reference only!
No copyright infringement is intended.
I do not claim any of these as my own ideas.
They are shared from friends and fellow group members.
Thanks for sharing all your great ideas!