Gingerbread Man
Bulletin Board Ideas
The Gingerbread Baby
We decorated our hallway in keeping with our favorite Jan Brett story, The Gingerbread Baby.
I used plain brown paper and drew a simple house outline. You can use brown butcher paper.
I used double sided tape to apply "snow" (this is the fake snow used under Christmas trees -
you can also use the stuffing for pillows). The students made glittery gumdrops, pattern candy
canes and coffee filter snowflakes to make our gingerbread house beautiful. Around
the outside we had our very own gingerbread babies frolicking in the snow.
Colored Gingerbread
Make different colored gingerbread houses and laminate on poster board.
Then die cut coordinating gingerbread men and write children's names on them. At circle, give
each child his/her gingerbread man and have them find the corresponding house he/she belongs to.
Ms./Mr. _________'s Batch
Use foil for the background of your bulletin board (resembles a cookie sheet) ,
cut out gingerbread men using light brown construction paper and write each child's name
on one. At the top of your bulletin board place the following saying, " (your name) Batch"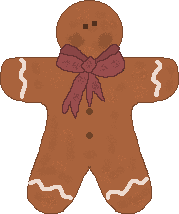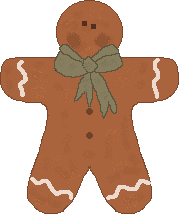 Gingerbread Shapes
Cut out a supply of gingerbread shapes. Staple the shapes
onto a bulletin board to add a seasonal flair.
Sugar & Spice Filled Holiday
Have each child use sequins, glitter glue, and other craft items to decorate a
gingerbread cookie cutout. Spread a little glue on the cutout and then sprinkle a little
ground ginger onto the glue to add a touch of fragrance. Set the cutout aside to dry.
Staple a large cookie jar shape onto a bulletin board. Add the completed cookie cutouts to
the display, then on the cookie jar, add the title: HAVE A SUGAR AND SPICE FILLED HOLIDAY!


Pre-K Fun Theme Pages are for educational reference only!
No copyright infringement is intended.
I do not claim any of these as my own ideas.
They are shared from friends and fellow group members.
Thanks for sharing all your great ideas!