Santa Misc. Ideas & Links
So Be Good for Goodness' Sake
Use this interactive display to help with classroom management during the holidays.
To begin, program a board or sheet of tag board as below... Each day that
a child's behavior is acceptable, invite her to sign her name on the board.
Dear Santa,
I've been good!
Love,
____________
Special Visitor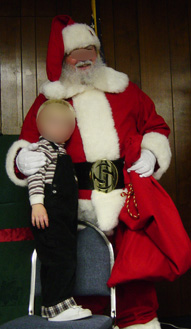 (Photo submitted by Shell)
Invite someone (a friend, family member, neighbor, or someone that one of the parents may know)
to dress up as Santa for your class Christmas party. Encourage the kiddos to go up and sit on
Santa's lap and tell him what he/ she would like for Christmas. This is perfect photo opportunity.
Beforehand, go out and buy small gifts for each child.... dollar stores are perfect place to find cheap
little toys for Santa to pass out or you can buy candy canes and have Santa hand those out to
each child. Some children will not go up to Santa when their parents take them to the
mall or wherever... but when they see their friends going up, they usually will.
Track Santa
You can track Santa on the government's NORAD site, the same
site they use to track any object in the sky. http://www.noradsanta.org/

~ LINKS ~
Pre-K Fun Theme Pages are for educational reference only!
No copyright infringement is intended.
I do not claim any of these as my own ideas.
They are shared from friends and fellow group members.
Thanks for sharing all your great ideas!