Santa Language Ideas
On the List
Little ones are sure to be tickled when they notice that their names begin with
the same sound as other words! Post a length of red paper titled "Santa's
List" near your circle time area. To begin, present a student's name card and
have children say the name. Set the card aside and hold up two alphabet
picture cards, one with a picture whose name begins with the same sound
as the student's name. Have the children say the name of each picture.
Then prompt them to identify the picture whose name has the same
beginning sound as their classmate's name. After they identify
the correct picture, have the child tape his name to Santa's list.
Letter to Santa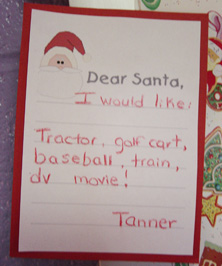 (Photo submitted by Shell)
Pull the children aside one at a time and ask them what they would like for Christmas.
If you do this as a group... they tend to copy each other and all say the same thing.
Write down their wish list onto a Dear Santa letter... or for older preschoolers,
write it down on a blank pc. of paper and let them copy it onto a Dear Santa letter.
Santa's Gifts
Fold the bottom portion of a sheet of construction paper upward, then staple the sides to make a pocket.
Repeat to make 26 pockets. Decorate the pockets to resemble gifts, and then label each one with
a different letter. Next cut out magazine or clipart pictures that have beginning sounds corresponding
to each letter. Glue each picture to a separate index card. Store the cards in a gift bag. Mount the pockets
with the children's reach and then add a Santa Claus character and a title to the display. Encourage the child to
choose a picture card and identify the beginning letter and sound, and then place the card in the appropriate pocket.
Pre-K Fun Theme Pages are for educational reference only!
No copyright infringement is intended.
I do not claim any of these as my own ideas.
They are shared from friends and fellow group members.
Thanks for sharing all your great ideas!