Santa Bulletin Board Ideas
Dear Santa Board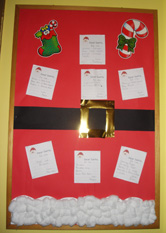 (Photo submitted by Shell)
I made this Santa suit board to hang our Dear Santa letters for parents to read before
we "mailed" them to Santa. I added cotton balls to the bottom and the
buckle is made from a scrap pc. of shiny gold paper we had lying around.
Larger than life Santa display
Santa Claus is coming to town and to your classroom! First determine the width that you'd
like your display to be. Then cut two sheets of red bulletin board paper accordingly. Also cut
an equal length of tan and white bulletin board paper. Trim a scalloped border around the white
sheet to resemble Santa's beard. Glue the beard to the bottom of the tan sheet (the face). Then
trim one of the red sheets to resemble Santa's hat. Glue the hat to the top of the face. Use
construction paper scraps, along with cotton balls or fiberfill, to create details for Santa's hat
and face. Finally, glue the remaining red sheet of paper below the beard to resemble
Santa's body. If desired, add black construction paper legs to complete this jolly old elf.
Display your students' holiday-related work on Santa's spacious belly.
Ho Ho Ho Santa Bulletin Board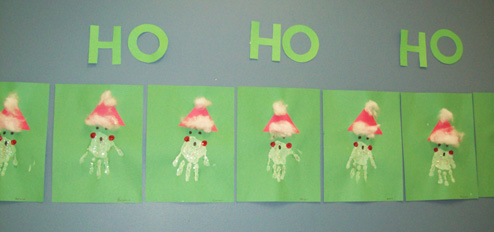 (Photo submitted by Shell)
This board was done by another teacher where I worked.
I thought all the Santa's were so cute!
Pre-K Fun Theme Pages are for educational reference only!
No copyright infringement is intended.
I do not claim any of these as my own ideas.
They are shared from friends and fellow group members.
Thanks for sharing all your great ideas!