Ornament Math Ideas
Christmas Patterning
Have children make patterns using cutouts of different colored Christmas ornaments.
Light Number Sequence
Provide children with light patterns, numbered 1-10 and have
children to place in order on a string, using clothespins.


Ornament Number Sequence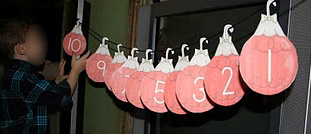 (Photo by Michelle Whary)
I just hung a piece of yarn between the speakers on our surround
sound and away we went placing the ornaments in numerical order.
Pre-K Fun Theme Pages are for educational reference only!
No copyright infringement is intended.
I do not claim any of these as my own ideas.
They are shared from friends and fellow group members.
Thanks for sharing all your great ideas!