Ornaments Fine Motor Skills
Large Christmas Tree Photo Lights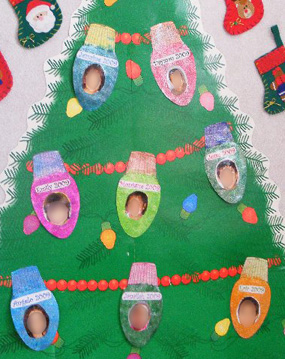 (Photo submitted by Mrs. Valerie)
For the large lights for the tree the kids painted with
bingo daubers and I added a picture. they were a big hit.
Popcorn & Cranberries
Cut from craft foam a supply of extra large popcorn and cranberry cutouts.
Punch a hole in the center of each cutout. Then tie a separate cutout
to an end of each of several lengths of yarn. Dip the remaining end of
each length in glue to keep the yarn from fraying. When the glue is dry,
place the yarn lengths and remaining cutouts in a center. A child
strings cranberries and popcorn onto a length of yarn to resemble holiday
garland. You can also have the children practice their patterning skills.




Pre-K Fun Theme Pages are for educational reference only!
No copyright infringement is intended.
I do not claim any of these as my own ideas.
They are shared from friends and fellow group members.
Thanks for sharing all your great ideas!