Candy Cane Recipe / Snack Ideas
Peppermint Sandwich Cookies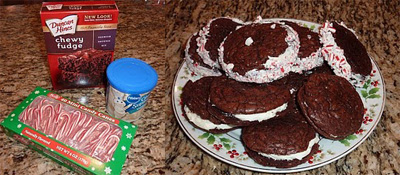 (Photo & recipe by Jennifer Waller)
Ingredients
1 box Chewy Fudge Brownie Mix
10 red and white peppermint candies, coarsely chopped
1/3 cup vegetable oil
2 lg eggs
1 can of vanilla frosting
2 tbsp water


Preheat oven 350 degrees. Lightly spray baking sheets with non stick cooking spray.
Combine brownie mix, oil, water and eggs in large bowl. Stir with fork to make stiff dough.
Roll 1 Tablespoon sections of dough into balls and place 2 inches apart on baking sheet.
Bake 350 for 10-11 minutes or until edges set. Do not over bake. Cool on cookie sheet for
TWO minutes. Transfer to wire rack and cool completely. Spread heaping teaspoon of frosting
on the flat bottoms of the cookie. Top each frosted cookie with another cookie, flat side toward
frosting. Gently press together. Place the crushed peppermint candies in a shallow plate.
Roll sides of each cookie in the crushed peppermint so candy pieces stick to the frosting.
Candy Cane Cookies
Ingredients
1 cup butter or margarine
1 cup powdered sugar
1 egg
2 teaspoons vanilla
2 1/2 cups flour
1 teaspoon salt
1/2 cup finely crushed candy cane mixed with 1/2 cup sugar
1/2 teaspoon red food coloring

Directions
Mix all ingredients. Split dough into equal portions. Color one portion of the dough red.
Refrigerate the dough long enough to be able to easily work with it. Break off one
piece (approx. one teaspoon of each color) and roll by hand into four to five inch tubes.
Twist the two pieces together and bend forming a candy cane. Sprinkle the top with
the candy cane/sugar mixture. Be careful when removing from the cookie sheet,
they will break easily. Bake at 350 degrees for 6-9 minutes.
Candy Cane Ice Cream Sundaes
Ingredients
Vanilla or mint chocolate chip ice cream
CAND CANE Syrup
candied cherries (red & green)
Miniature candy canes
Christmas Sprinkles if desired
whip cream
Directions

Put a scoop of ice cream in a bowl. Pour CANDY CANE Syrup over the ice cream.
(Have some red & some green.) Put whip cream on top. Sprinkle the Christmas
sprinkles on top the whip cream. Add a red or green cherry to the top.
Stick a miniature candy cane into the ice cream. Enjoy!!
Candy Cane Syrup
Try this over ice cream or on pancakes.
Put it in a half pint jar and give it as a gift.
Add red striped lid cover and tie candy canes to the top.
Ingredients

1/2 cup crushed/broken candy canes
1 cup water
1/2 cup sugar
1/4 cup light corn syrup
--------------------------------------
2 T water
1 T cornstarch
Directions

Put the crushed candy in a pan. Add 1 cup of water, the sugar and
your corn syrup. Stirring constantly bring it to a boil over medium heat.
After it comes to a boil reduce your heat and simmer the mixture
until the candy cane is dissolved. Keep stirring while it is simmering.
Now mix 2 T. of water with your cornstarch. Shake well until well
mixed in a small container with a lid. Add this to the peppermint
mixture. Stir well and simmer this until it starts to thicken like syrup.
You can color your syrup red or green with food coloring.
Candy Cane Recipe
Ingredients
3 c Sugar
1 ts Peppermint flavoring
1/2 c Water
3/4 c Lt. corn syrup
3/4 ts Red vegetable coloring
1/4 ts Cream of tartar

Directions
The sugar, water, syrup, and cream of tartar you combine and heat till the sugar's dissolved
real fine. Divide into two saucepans, boil, but don't stir, please, until each lot is 280F. Add 1/2 tsp.
peppermint to each lot and add the coloring to one, the other not: place on an enamel or marble
table to cool. (First oiling the table, as a general rule). Like taffy you stretch and pull and form
into ropes of red and white, now twist them around again and again. And form them
into your candy cane. Now on an oiled surface you allow them to harden.


Peppermint Pudding
Place peppermint candy or candy canes inside a ziploc baggy. Use a block to crush
the peppermint candy. Let the children spoon vanilla pudding into a cup and add a
dollop of whipped topping on the pudding. Then sprinkle the candy over
the children's vanilla pudding snack.
Pre-K Fun Theme Pages are for educational reference only!
No copyright infringement is intended.
I do not claim any of these as my own ideas.
They are shared from friends and fellow group members.
Thanks for sharing all your great ideas!