Baby Jesus Recipe & Snack Ideas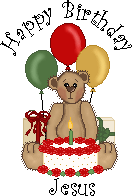 Baby Jesus' Birthday Cake
Bake a birthday cake for baby Jesus.
Apple Stars
Cut apples in half crosswise. Have the children look to see if they can
see a star. Talk about the importance that the star played in the birth
of Jesus. You could also do the same activity with star fruit.
Edible Manger
Ingredients Needed:
paper baking cup
chocolate pudding
Shredded Wheat cereal
pretzel nuggets
mini marshmallows

Directions:
Fill baking cup 1/2 full of pudding. Have each child shred the shredded wheat
biscuit over pudding to represent hay. Place the pretzel nugget on the hay to
represent the body of baby Jesus. Top nugget with marshmallow
to represent the head of baby Jesus.
Baby Jesus Wrapped in Blankets
Need crescent rolls and little smokies. Take pieces of the crescent rolls
and wrap around the smokies. Bake at 350 for about 10 min.
You can also use hot dogs cut in pieces.
Pre-K Fun Theme Pages are for educational reference only!
No copyright infringement is intended.
I do not claim any of these as my own ideas.
They are shared from friends and fellow group members.
Thanks for sharing all your great ideas!