Baby Jesus Bulletin Board Ideas
Best Christmas Gift Ever
"Wrap" your entire bulletin board with Christmas wrapping paper
(use a plain design so it won't detract from your message). Place
ribbon diagonally across the upper left and bottom right corners.
I also placed a very large bow on the upper left corner. I enlarged
a picture of the Mary and Joseph with Baby Jesus and placed this
directly in the center of the board. In a circle shape around the
Holy family I placed the words "The Best Christmas Gift of All"
Happy Birthday Jesus
I work for a Christian preschool so at Christmas I tried to put the focus Jesus
being born instead of Santa. One way I did this was to make a very special
bulletin board. I used a blue background, made a 3D manger, and drew a
silhouette of a baby laying in it. I put a piece of cloth over the baby's body
so that only the face and one hand was seen. Then I put a big star in the
corner of the board and put "Happy Birthday Jesus" above the manger.
Then I had the children decorate a gift for Jesus using a square piece
of construction paper, stickers, markers, stamps and whatever else they
wanted to use. To finish off the presents they chose a bow to put on it and
a name tag to identify their gift. The children really got into giving a gift to Baby
Jesus. This was a hit with the parents and all who passed by the room as well.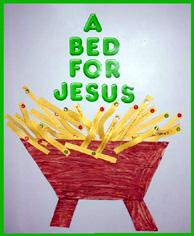 (Photo submitted by Denise)
A Bed For Jesus
This is a manger that we are filling with hay. The hay is paper strips that the
parents are filling out at home. They tell of good deeds the children are doing!
We are creating a soft bed for Baby Jesus.
Angels Singing
When Jesus was born, the angels appeared singing and praising the new
born Savior. With this bulletin board, the joy of Jesus will be known
throughout the classroom. The angels are three dimensional.

Materials Needed:
Background of royal blue construction paper
Boarder of thick gold ribbon
Yellow construction or gold foil paper for large letters
White construction or silver foil paper for smaller letters
Black construction paper for musical notes
Cotton, batting material or fabric for cloud

For Angels:
White construction paper, rolled to form a cone shape about 6" tall
White construction paper for wings
Light brown or yellow construction paper (2" circle) for head
yellow pipe cleaners for halos
A Savior Is Born For...
For Christmas at our church I had 3 gold paper horns coming out of the side
of the bulletin board. The top one was the longest, middle shorter and
bottom shortest. I stapled a piece of red cloth (like a banner hanging from
each horn) on each. On the top horn I put the letters, "A Savior"; on the
middle one I put, "is born" on the bottom one I put "for . . .". I cut out large
star shapes ahead of time and wrote their names on using glitter fabric
paints. After they dried I gave them to the kids to decorate with markers,
glitter, sequins, etc. Then we attached them to the bulletin board so now it read:
A Savior is born for . . .
(and all the stars surrounded the trumpets with the kids' names on them.)
Pre-K Fun Theme Pages are for educational reference only!
No copyright infringement is intended.
I do not claim any of these as my own ideas.
They are shared from friends and fellow group members.
Thanks for sharing all your great ideas!