Baby Jesus Arts & Crafts Ideas
Sharing God's Special Gift Of Love
Materials needed:
Wrapping paper
Ribbon
Glue sticks
Picture of Baby Jesus
Scissors
Colors (optional)

Directions:
Xerox the picture of Baby Jesus so each child can have 3-4 copies. Cut the wrapping
paper into 9 by 12 pieces. Cut the ribbon into 8" pieces. Talk about how many
special gifts God has given us. Nature, families, good times etc. The most
special gift of all was Jesus, His Son. Some people don't know about God's
best gift to them. This activity is a fun way to help children want to share the
news about God's gift with others. Give each child several copies of the Baby
Jesus picture. Color them if needed. Apply glue stick to the back of each
picture. Lay the picture face up on a square of wrapping paper. Roll the
wrapping paper up with the picture inside and tie closed with a strand of
ribbon. Encourage the children to share the rolled gifts with others.
We Three Kings
For each child you will need: 3 Toilet Paper Tubes 3 6" squares of metallic
fabric 3 metallic pipe cleaners 3 pieces of paper, or paint to cover tp rolls 3
oval 'faces' (children add features) glue 3 Dove Christmas candy wrappers
For each King: First cover the tp roll with either contact paper, regular construction
paper, or paint it & let dry. Next, cover one end with the fabric, so one side hangs
down longer than the other. Wrap the pipe cleaner around for a band that holds on
the king's head piece (actually looks more like what a Shepard would wear!). Have
child draw on the features on the oval, then glue it on. Lastly, trim the candy
wrapper so that you've got the shiny 'present' left, and not the crinkled edges.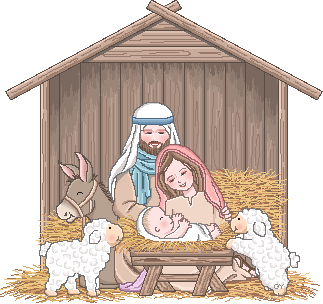 Away In A Manger
Materials Needed:
Paper plate,
wet wipes,
glue,
pretzel sticks,
Spanish moss,
Circus peanuts
Directions:
Have children take two pretzel sticks and glue them to the paper plate to
make an "X"for the legs of the manger. Have the children glue Spanish moss
above the pretzel sticks to represent the hay. Have the children glue a Circus
peanut so that it lays on the hay to represent the baby Jesus lying in the manger.
Nativity Scene
Cut out pictures of Mary and Joseph. Have children glue them onto a stable picture.
Also, cut out pictures of Jesus in a manger and let children glue onto the scene.
You can expand this by also adding the 3 wise men, or shepherds, etc.
The Holy Night
Let children draw a picture of the Holy night -- our first Christmas
using chalk. Dip the chalk in sugar water for brighter colors!
Clay Nativity
The Clay Nativity is a simple and easy-to-make craft for a broad age range. You'll need:
3 mini clay pots (2"), 3 large wooden beads, straw or moss, a gold ring of ribbon,
strips of fabric, and tacky glue. Turn two pots upside down and glue a bead on top
of each one, (representing Mary and Joseph). Place one of the fabric strips over Mary's
head, the other around Joseph's shoulders. Place straw into the third pot,
(represents the manger). Place the third bead (represents Jesus' head) into
the straw, then place the gold ribbon around the head of Jesus like a crown.
Nativity Scene
We made a nativity scene.
There is a template for one at
www.first-school.ws/activities/bible/nativity1.htm
OR
You can have the kids make their own stable by gluing popsicle sticks onto paper in the shape
of a stable and then put Mary, Joseph and the baby under it and add a star sticker above it.
Pre-K Fun Theme Pages are for educational reference only!
No copyright infringement is intended.
I do not claim any of these as my own ideas.
They are shared from friends and fellow group members.
Thanks for sharing all your great ideas!